Move your valuables with our trustworthy team of movers
Professional & friendly movers
Fully insured for peace of mind
Competitive rates with no hidden fees
Available 7 days a week
Read why our customers love us!

Simple, upfront pricing with no hidden fees

2 Men & Truck
from $140/hr inc. GST
Suitable for apartment or small house
(1-2 bedrooms)

3 Men & Truck
from $180/hr inc. GST
Suitable for average house or large apartment
(3+ bedrooms)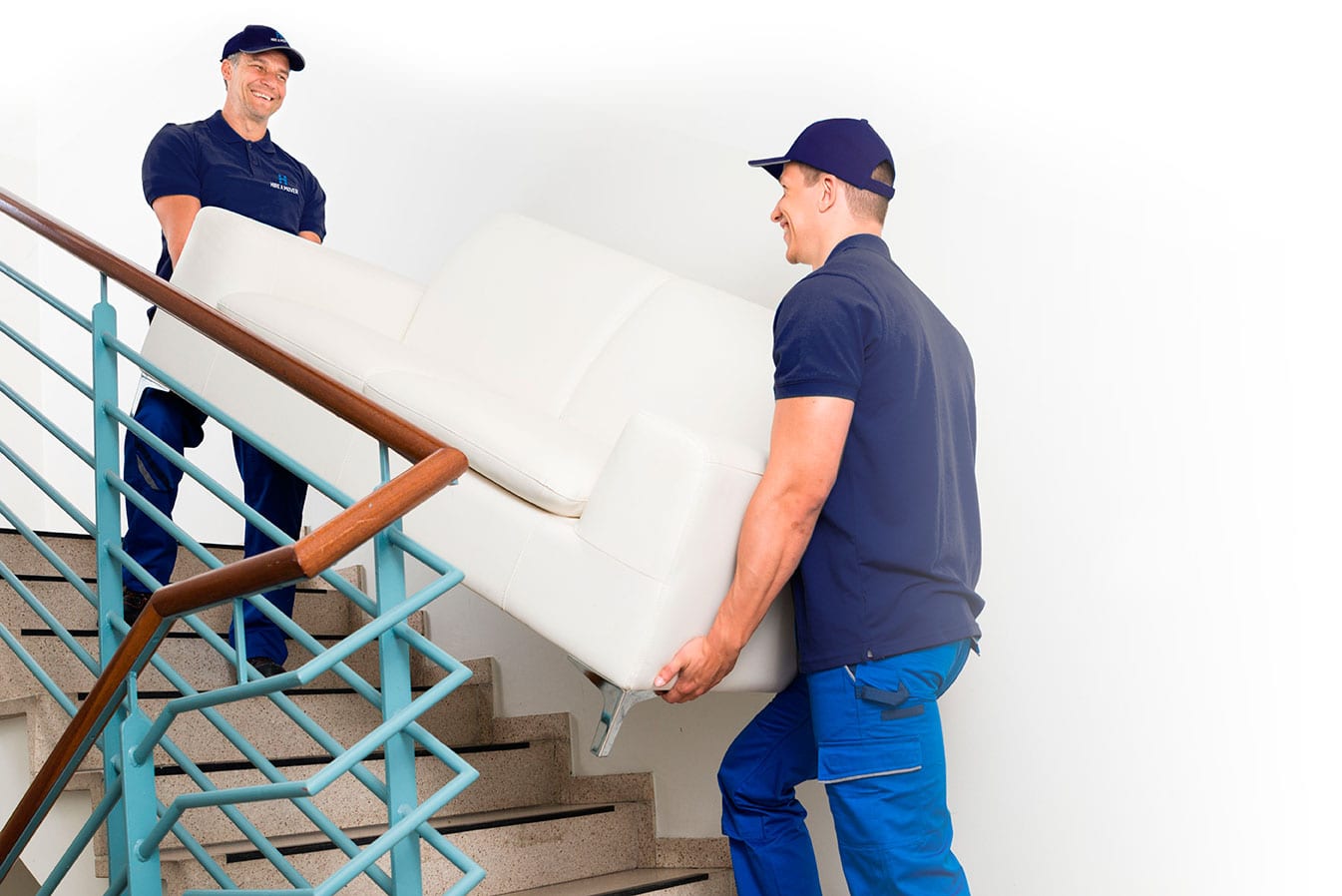 Hire A Mover is all about helping people with moving and removals all across Melbourne. We aim to make your move as stress-free as possible and we do this by hiring the best removalists available, trained through years of experience. They're hard working, friendly, and are great at their jobs.
Reasons to choose Hire A Mover
Professional, friendly and attentive Melbourne removalists
Competitive rates with no hidden fees
Quick quoting and streamlined booking process
Friendly and helpful customer service
Option to hire or buy boxes and receive a 10% discount
Packing and unpacking service available
Available Mondays to Saturdays, mornings or afternoons
Home or office moves
Fully insured for piece of mind
Convenient credit card or cash payment options
Happy customers around Australia
Save time and money by using our other convenient and professional Melbourne relocation services
Hire A Packer
Treat yourself to an easy move with our packing & unpacking service
Protect your valuables with our trustworthy team of packers
Hire 2 professional packers for 4 hrs from just $480!
Hire A Box
The smarter way to hire or buy moving boxes
(excludes ACT & QLD)
Receive a 10% discount at Hire A Box when you use Hire A Mover
From $2.16 a box
Hire Storage
A professional storage service, centrally located to suit your needs
Secure, convenient storage space
From only $160 per month
Cost-effective Removalist Services
At Hire A Mover we understand that context is important and that one size doesn't necessarily fit all, so we take care to be flexible with our customer's needs. If you need proof just call our customer service reps and you'll find out for yourself. Further, if you call we can provide a quote for you, and because we use a fair and affordable hourly rate system we can guarantee you a quote that you're happy with.
Our removalist services are a flat rate from $140 per hour inc. GST with a minimum of 2 hour charge. Depending on the origin and destination addresses, there may also be a once off travel charge to cover getting to and from our depot, this charge is generally 30 minutes or 1 hour.
We operate 7 days a week and have two timeslots available: 8am or in the afternoon between 12pm and 1pm.
Hard-working, experienced and efficient movers in Melbourne
We at Hire A Mover don't like to make empty promises that only serve to frustrate, which is why we focus on giving tangible benefits to our customers that differentiate us from the alternatives. We've got a huge assortment of vehicles ready to help with any house moving in the Melbourne area you need, and we can accommodate any sized house, be it a large place or a smaller bungalow.
Still have questions? Why not check out our comprehensive frequently asked questions section here.
Whilst originally a Sydney removalist company, we have expanded nationally and Melbourne is now one of our most popular hubs. Our trucks are centrally located in Melbourne and we have a large storage facility in Derrimut and Richmond. Our Melbourne removalist service is professional and friendly, making the whole moving process stress-free for you. From the initial point of contact with our customer service team, to the movers on the day seamlessly transitioning your furniture from one property to the next, rest assured the process will be straight forward, cost effective and with a smile.
A single point of contact to organise all your relocation needs
Hire A Mover is part of the Hire A Box, Hire A Packer and Hire Storage group of companies. What this means for our customers is that with a single phone call, all your moving needs can be taken care of. You don't need to phone separate companies and liaise between all of them to co-ordinate the different components of moving. Our Melbourne removalist service is just one aspect of the complete solution.
You can hire or buy your boxes and packing materials, book the removalists in, arrange for packers and unpackers, and even put some items into storage with a single point of contact across all the services. Our friendly and helpful customer service team are a delight to speak to so please give them a call anytime between the hours of 8am to 5pm AEST on 1300 358 700.
Hire or buy your boxes and save 10%
Our sister company Hire A Box offer you the option of either buying or hiring boxes. Many customers choose to hire the boxes as it is cheaper, more convenient and better for the environment. However should you need to keep the boxes or want to re-use them yourself, you also have the choose to buy new or used boxes for your move.
If you move with Hire A Mover, you receive a 10% discount on your boxes and packing materials order.
Our friendly Hire A Box driver can generally delivery next day, you simple choose a convenient 2 hour delivery window! Order online or give them a call on 1300 858 446 and receive a 10% discount on your packing boxes!
Packing and unpacking services available
Hire A Mover's other sister company, Hire A Packer offer experienced, friendly and professional packers to pack and unpack your precious possessions. The reason so many customer choose this service is not only to save time, but also to help reduce damages. The packers wrap all your fragile items in wrapping paper and other materials and make the unpacking process a lot quicker. The standard package is 2 packers for 4 hours which costs $480. During this time they can generally pack 30-40 boxes which is a typical kitchen and 1-2 ohter rooms. Need more packed? Not a problem, choose 3 packers for 5 hours or contact the office for a tailored package.
You can get a quote online or by calling us on 1300 366 522.
Take care of your goods during the move
Our Melbourne removalists will always take good care of your belongings. However, the moving process is not exempted from unexpected risks. Whilst Hire A Mover is fully insured with Goods in Transit and Public Liability insurance, we also recommend you take our your own moving insurance in case anything occurs outside the fault of our movers. If our movers are negligent then you are covered under our insurance however for anything outside our control we recommend either speaking to your insurer of your home and contents to ensure the move itself is covered, or take out an additional policy for peace of mind.
Any questions or ready to book?
Get a quote online or give us a call on 1300 358 700 Monday to Friday, 8am to 5pm AEST so you can discuss any particular enquiry with our customer service team.
Hire A Mover
Average rating:
256 reviews
Aug 26, 2019
Moving To:
Glen Iris, VIC
Very helpful from booking, easy Quotes, Fantastic service from Box Hire, fantastic packers and movers - very professional, made the hard job very easy!! Would defiantly use for future moves!
Aug 26, 2019
Moving From:
Williamstown, VIC


Wonderful professionals, ensuring that everything works out perfectly on your moving day. What a fantastic service — thank you!





Jul 22, 2019
Moving From:
Armadale, VIC
I've used your service 3-4 times now and as usual the guys had great customer service, very helpful and just got the job done, which is exactly what you need on moving day! I also used your Hire A Packer and Hire A Box services, both of which were very good. Please thank everyone involved again from me, for their help.



I've been recommending your companies to my friends too!
May 6, 2019
Moving From:
Beaumaris, VIC
Moving To:
Beaumaris, VIC
Very helpful from booking, easy Quotes, Fantastic service from Box Hire, fantastic packers and movers - very professional, made the hard job very easy!! Would defiantly use for future moves!
Aug 28, 2018
Moving From:
Hawthorn East, VIC
Hi there

We were very pleased with the service provided by hire a mover. The guys that did the move were outstanding, professional, efficient and great to deal. We will definitely promote and recommend your business to others and use again in future.

Please pass on our appreciation to the guys that helped.


Aug 1, 2018
Moving From:
Vermont South, VIC
Moving To:
Mount Waverley, VIC
Apologies for not replying back sooner……this is second time we have used hirer a mover and the service from administration to the removalists has always been professional, easy and seamless. Cost is also reasonable which drew me to your website initially.
Jul 12, 2018
Moving From:
Windsor, VIC
Yan and his colleague were amazing.

They were fast, professional and took so much care with our precious things.

They made our move so much easier.

I will only ever use Hire A Mover from now on!
Mar 22, 2018
Moving From:
St Kilda, VIC
I'm not exaggerating by saying Hire A Mover is the best moving company I've ever worked with.

Easy to set up, the guys arrived exactly when they said they would for my Melbourne move. They carefully packed everything onto the truck, and later unloaded it into my new place, all under 3 hours which was much faster than expected. They were friendly, efficient, and professional. Not overly priced.

I will definitely be using them again the next time I move.
Nov 28, 2017
Moving From:
Highett, VIC
Moving To:
Cheltenham, VIC
The three guys did an excellent job. They worked hard, and took great care of everything they moved, ensuring the very least possible scratches or damage (Let's be real, you have to expect a scratch or two), these guys cared enough to try and achieve zero. Highly recommended.
Feb 16, 2017
Moving From:
Caulfield, VIC
Moving To:
Caulfield South, VIC
The movers turned up on time and were hardworking and friendly. We used the box service too which was very convenient, would recommend Hire a mover to anyone moving. You made a potentially hard day easy. thank you