Hire A Packer – Professional Packing and Unpacking Services
Why it's such a popular service.
Focus on time-consuming areas: Our mature packers generally focus on the more time-consuming areas such as the kitchen. There are a lot of potential breakables in a kitchen and this is why the kitchen is the more important section to wrap in butchers paper and pack properly in the boxes. As most kitchens have large amount of glassware and other easily damaged items, this is a good area for our staff to focus on.
Safe and experienced: Our ladies are trained, experienced and friendly. They do this for a living so rest assured you won't need to give them much direction on the day.
Peace of mind: Our ladies will organise the kitchen, make beds, set up the kids' rooms, organise the living and dining rooms, put away books, DVD's, toys, everything. We'll expertly make your new house into a home in just one day, get you settled quickly and happily and even provide fresh flowers with our compliments.
Choose as much or as little as you like: You can choose how much assistance you need with packing – we could focus on the breakables only, or a specific area of the house such as the kitchen, or we can take care of all of your packing for you.
Total moving solution: You need boxes to pack everything up? Hire boxes and packing supplies from us online www.hireabox.com.au and be delivered to your door at your convenience. No time wasted, when our staff comes to pack, you're all set!
We offer 2 professional packers/unpackers for 4 hours for $400 inc. GST
Affordable pricing
If you need additional hours on the day, that shouldn't be a problem – just let the ladies know as early as possible.
Please Note:
A minimum of two packers/unpackers can be supplied for any booking
A minimum of 4 hours applies to all bookings, charged in 15 minute increments after the first 4 hours. Hourly rate $50 per hour per person.
You will need to have enough packing materials ready for our packers on the day – just ask us. We generally recommend at least 40 boxes, 10kg butchers paper and 4 tape rolls. You can order this online with Hire A Box and receive a 10% discount on these items.
No surcharge for weekend bookings!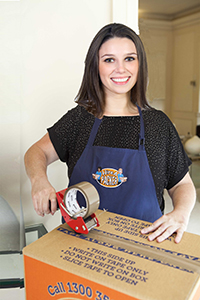 Moving should be a pleasant experience
Call 1300 366 522 today to book a day and starting time with our customer service team. We generally recommend organising the packers for the day before your move.