We can assist you with moving your goods interstate!
Hire A Mover can help with all of your interstate moving needs.
We are a well-established, professional removalist company with plenty of experience in interstate removals along the East Coast.
In order to receive an accurate quote for your upcoming interstate move, we require you to download and complete our inventory calculator. This is because our prices are based on cubic metres and it is the only way we can give you an accurate quote. You can download the inventory calculator here. Once you have completed it, simply email it to [email protected] and let us know the dates you would like for pick-up and/or collection of your items.
Our weekly routes include the following:
GET A QUOTE NOW BY DOWNLOADING AND COMPLETING OUR INVENTORY CALCULATOR – CLICK HERE TO DOWNLOAD
Please note if your origin or destination is on the way then we do these routes to, we collect your goods on the journey. So for example, we do the Canberra to Sydney run multiple times per week but have not listed it above as a separate item because it is on the way. We also do Melbourne all the way to Brisbane and vice versa.
Whether you're moving home or shifting your business, our friendly removals staff can assist you with your interstate move—ensuring that your belongings arrive safely at their destination.
Cost effective interstate removal services
Hire A Mover is known for providing great service at great rates. We're experienced when it comes to interstate moves, so we'll be able to undertake your move from Sydney to Melbourne or Sydney to Brisbane—or wherever else—quickly and efficiently. We have large trucks that we fill and pack properly to ensure the cubic metre rates we charge clients are as low as possible. Our rates start at $65 per cubic metre.
Don't use removalists that send a truck interstate half empty – you will be paying the fuel and travel bill on your own. By filling our trucks we ensure not only are the goods packed properly and securely, but we can pass on low rates to our customers by splitting the running costs! We charge based on cubic metres, so once you know what you need to move, simple send us an Inventory List and we will come back to you with the fixed price for your move.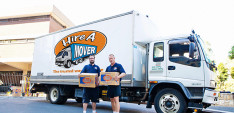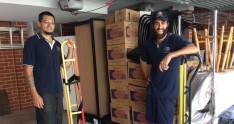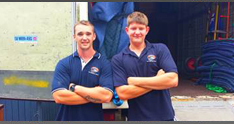 Flexibility during your interstate move
Because we know that it helps with peace of mind, we're happy to let our customers get involved in the moving process if they want to—whether it's overseeing or shifting things around, we're happy for you to lend a hand.
Don't risk your goods getting damaged along the way!
Our trained interstate removals team will ensure that your household or business items are taken care of during your interstate removals process. Be wary of any low-cost, new name carriers as you may risk even damage or theft of your goods.
However, because we know that you want to ensure that your belongings are completely protected from start to finish, we've teamed up with Removals Insurance Australia to provide comprehensive protection during your interstate move. Ask us how you can get a quote for this when you make your booking enquiry.
Looking for moving boxes?
We can help you! As part of the Hire A Box group, we can provide our customers with packing boxes delivered to your door today! Also, receive a 10% discount on the boxes you purchase. Call 1300 858 446 today or visit their website www.hireabox.com.au to place an order!
Don't delay! Book your move today!
So what are you waiting for? Whether you're moving from Sydney to Melbourne, Melbourne to Sydney, Sydney to Brisbane or Brisbane to Sydney, we have all of your east cost interstate removal needs covered.
Call Hire A Mover on 1300 358 700 today to organise your interstate move—you'll be in good hands.
GET A QUOTE NOW BY DOWNLOADING AND COMPLETING OUR INVENTORY CALCULATOR – CLICK HERE TO DOWNLOAD