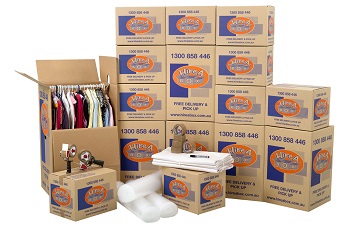 Hire or buy boxes and receive a 10% discount
Hire A Box is the trusted, reliable and cost-effective sister company of Hire A Mover. Moving with us, you not only save on the move, but you also save on the moving boxes!
Our customers benefit from a 10% discount on their moving boxes for every purchase made through Hire A Box. If you book your move first you will automatically receive a discount code to receive 10% off your box purchase or if you have already purchased your boxes, you will receive a rebate after you have moved.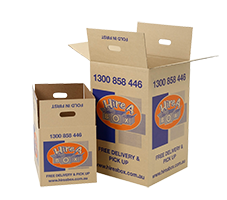 WHY USE THE HIRE A BOX SERVICE?
Quick and easy online ordering
Cheaper than buying from removalists
Extra strong cardboard
Call for same day delivery or order online for next day delivery
Choose your convenient 2-hour delivery window
No delivery fee if you need a second top-up order
Save 10% off your order when you book your move with Hire A Mover
WHICH SERVICE IS RIGHT FOR YOU?
IS HIRING RIGHT FOR YOU?
Renting boxes works out cheaper than buying them as long as you have them collected within the 3 months maximum hire period.
Free delivery when you hire $65 worth of boxes
No delivery fee if you need a second top-up order
Free pickup of your boxes once you have finished with them
20% cheaper than buying
Use boxes for up to 3 months
Refundable deposit
IS BUYING RIGHT FOR YOU?
If you are moving to a suburb outside a metro area or if you wish to keep the boxes for longer than 3 months then it is cheaper for you to buy boxes instead of hiring them.
Free delivery on all orders over $99
No delivery fee if you need a second top-up order
Your boxes are yours to keep for storage or your next move
Save money by buying directly from us instead of from removalists or a storage facility
New or used boxes available
LARGE BOX
Hire $3.30 | Buy $4.25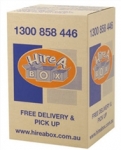 MEDIUM BOX
Hire $2.40 | Buy $3.30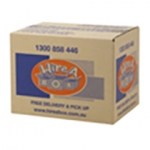 PORTA-ROBE
Hire $11.50 | Buy $16.20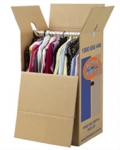 THE HIRE A BOX DIFFERENCE

CHEAP PACKING BOXES
Renting moving boxes can save you up to 30% on your moving costs. Hire boxes from $2.40 and buy boxes from $3.30.
EXTRA STRONG CARDBOARD
Our packing boxes are extra strong, and made in Australia from good-quality cardboard which don't fall apart when you fill them up and also last when stacking in the truck or for storage purposes.

HIRE OR BUY BOXES
You can choose to hire or buy your packing boxes. If you need them longer than 3 months it is cheaper to buy them upfront.
SAME DAY OR NEXT DAY DELIVERY
Call up in the morning to see if we can deliver your storage boxes the same day, or book online for next day delivery. Hire over $65 of boxes and get free delivery or buy $99 or more worth of moving boxes and get free delivery.
Where do we deliver packing boxes to?
We deliver our moving boxes and packing material to your door at a time that suits your schedule throughout the metro area areas of Sydney, Melbourne, Adelaide & Perth. You have 3 options for your moving boxes: you can hire the boxes, or you can choose to buy new or second hand boxes
Need Packaging Material?
In addition to the packing boxes, we also have a range of packaging materials that you might need for your move, including bubble wrap, wrapping paper, tape rolls, marker pens and tape dispensers.
Order your moving boxes online now and start packing tomorrow!