Your Guide to Moving to Bondi Beach
Bondi Beach. Little needs to be said about Australia's star attraction, the cracked smiles of deep-fried tourists speak volumes. People the world over flock to Bondi's magnetising shores in search of sun, sand and surf, and by gum do they find it.
But there's another side to Bondi, one slightly less sunburnt and notably more sun-kissed. Among the throng of international visitors, Bondi's residents enjoy the spoils of a flourishing coastal suburb that is, at its core, quintessentially Sydney.
Sydney Airport: 35 minutes by car
Central Station: 30 minutes by bus
Opera House / Circular Quay: 30 minutes by bus
Council information
Waverley Council
Postcode: 2022
Parking
Like much of the eastern suburbs, parking in Bondi Beach and surrounds is at a premium. If you're moving to Bondi Beach, Waverley Council's Resident Parking Scheme ensures residents get priority parking in restricted areas. There are also a number of pay parking facilities, including a generous number of beachfront spaces.
Schools
Outside of the many Surf Schools operating on the beachfront, there are a number of schooling options for the lucky kids of Bondi. If you don't mind your child having one eye on the waves at all times, Bondi Beach Public School on the famous Campbell Parade is a community icon, hosting the Bondi Farmer's Markets every Saturday.
Other schools in the area include:
Bondi Public School – Wellington St
Reddam House, Bondi Senior Campus – Mitchell St, North Bondi
Montessori East Primary & Pre School – Wellington St
Things to do
On a balmy December afternoon, with a playful northerly breeze fanning pristine gin-clear water, it takes the strongest of wills to turn your back on the beachfront. However, Bondi is no one trick pony.
Bars, bistros, bands and bazars, Bondi Beach boasts it all. Those looking to treat their ears to some of Australia's best live music will head uphill to the Beach Road Hotel, where salted trendies and suit-and-ties alike devour affordable pub fare.
And what better location to work off that double cheeseburger than the world-famous Bondi to Bronte Coastal Walk?
Or why not wash it down with some fresh gozleme at the Bondi Farmer's Markets held at Bondi Beach Public School every Saturday?
Parks
Those with their fingers on the pulse know that enjoying a quiet afternoon picnic in Bondi is indeed a possibility. Away from the sometimes maddening crowds of the beach and Bondi Park, there are a few lesser-known reserves that offer secluded shaded spaces where the kids can play unhindered. These include:
Dickson Park – Wellington St
Thomas Hogan Reserve – Francis St
Barracluff Park – Warners Avenue, North Bondi
But for the authentic Bondi afternoon, it's difficult to look past Bondi Park on the beach foreshore. With barbeques areas, sweeping grass slopes and even an acclaimed skate park, Bondi Park has it all. Not to mention the uninterrupted views of the most famous beach in the world.
Restaurants and bars
It's easy to work up a thirst after a day on Bondi Beach. Thankfully, there are enough options along Campbell Parade alone to satisfy the salivations of one and all.
Just the location of Hotel Bondi is enough to sway even the most sceptical of diners, and their bar and bistro is a perfect spot to enjoy the fading afternoon light. Those looking for a boogie and a burger will find both at the Beach Road Hotel up the hill, with often free live music nights a community favourite in Bondi.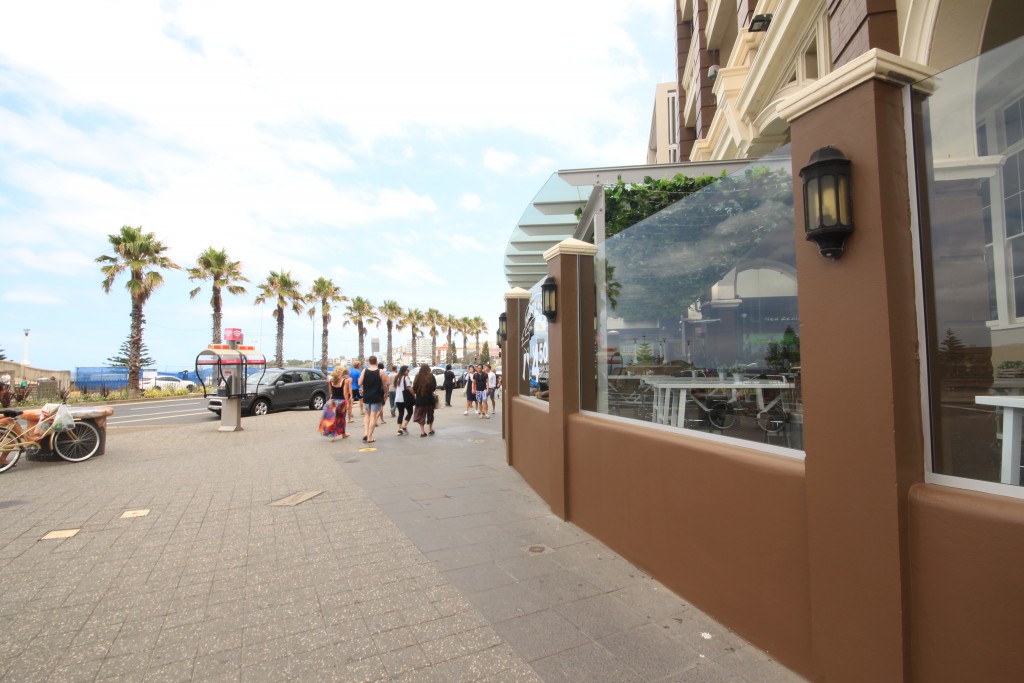 For a post-surf stein, the Bavarian Bier Café on Campbell Parade offers authentic Bavarian food in an atmospheric beachside location.
Shopping
For many, shopping in the eastern suburbs can only mean Westfield Bondi Junction. But Bondi Beach is not all fish and chips, with fashion stores, swimwear specialists and second hand bargains all to be found on Campbell Parade.
Stores with a distinctly local flavour can be found at the Bondi Farmers Markets, which runs at Bondi Beach Public School every Saturday.
If you're relocating to or from Bondi Beach, we're here to make your move as smooth as possible. Chat with us today about our professional removalist services.
This guide was written in conjunction with Farnham Cleaning.
Why not check out our other Moving Guides?